On our same trip to Bridal Veil Falls I hiked up closer to the falls and there were these beautiful trees with very red leaves. I really wanted to get a shot with the red leaves and the falls behind it. In order for this to work I had to make this shot while standing in thick bushes on a steep slope. It made me very grateful for the independently adjustable legs on my
. The wind was blowing down the canyon so I had to adjust my exposure accordingly so I could get the shot I wanted. The aperture needed to be small because I wanted everything in focus from front to back, so I needed a higher ISO to keep the shutter speed lower. Normally I would've kept the ISO 100 and dealt with the longer shutter speed but the leaves were moving too much. In situations like this it is important to wait for lulls in the wind and then shoot quite a few images and look for the sharpest one when you get home.
Here are the post processing steps I went through: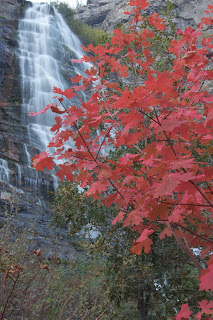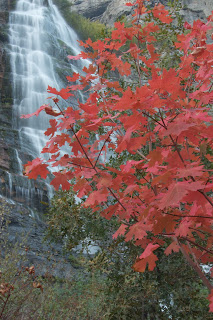 Using the white balance slider I warmed the temperature up to 61K from 58K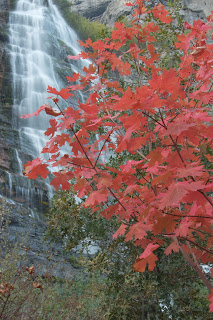 Increased the exposure by .15 ev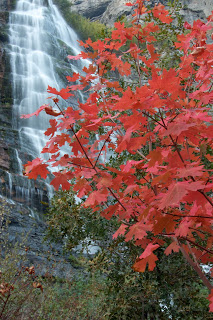 Increased the contrast and definition by .1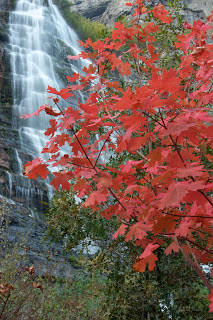 Increased saturation slightly on the green channel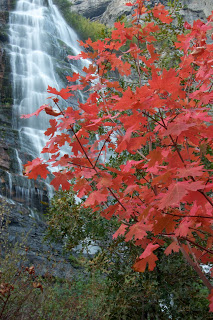 Added a slight vignette to the bottom left corner to give more attention to the red leaves
Which gives the final image.
Head out and find some fall colors to shoot. It is a great time of year to get outside and take beautiful pictures.